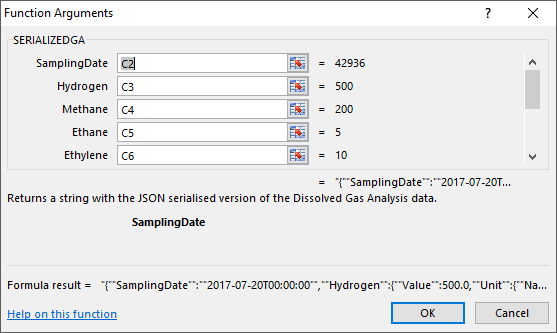 If you've enjoyed xDGA so far, you should give xDGA Pro a try. Available in preview for a limited time.
https://xdga.pro/blog/launch-of-xdga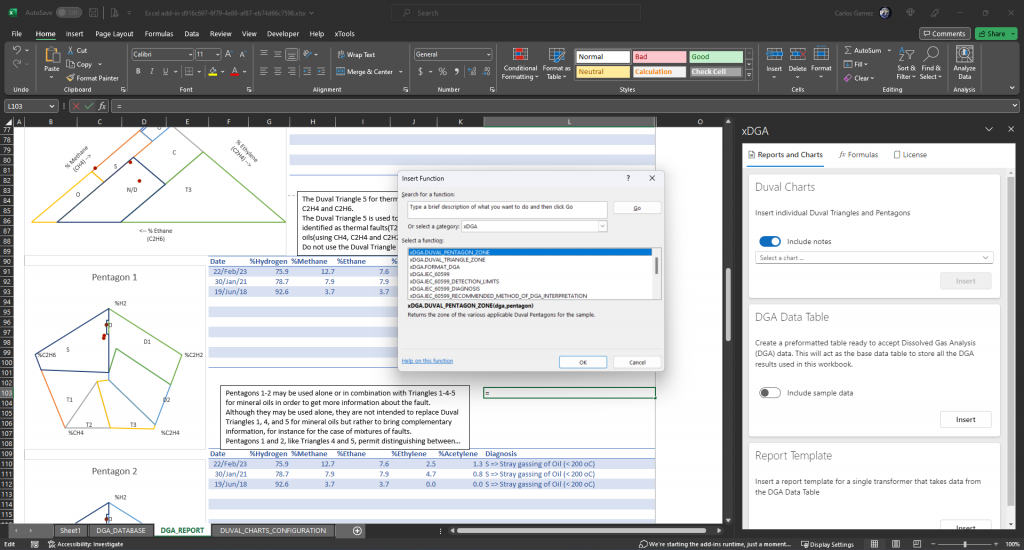 ---
xDGA is a free and open-source tool. xDGA implements a set of Excel formulas that give you the ability to run industry best-practice algorithms to evaluate and assess the results of Dissolved Gas Analysis in Liquid Filled Electrical Apparatuses such as Power Transformers, On-Load Tap Changers, Circuit Breakers, etc.
The custom formulas are packaged as an Excel XLL Add-in which doesn't require any additional software installed on your computer. Simply double-click on the xDGA.ADDIN.xll file and start using the formulas.
If you've ever tried to apply any of the available analysis guidelines, you'll know that some of them are dozens of pages worth of information. Wouldn't it be nice if all those rules were condensed in easy-to-use formulas that can be applied to your existing DGA data? Well, xDGA does exaclty that.
Convert DGA Data
Use cells with DGA data and transform them into a standard format ready for consumption by the diagnosis algorithms.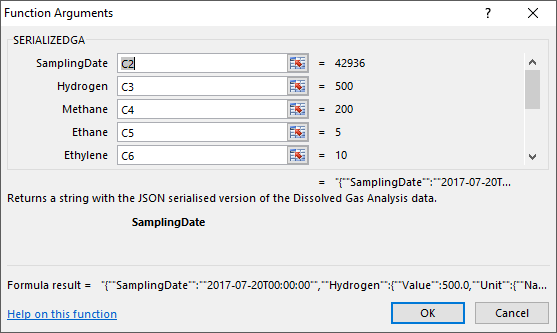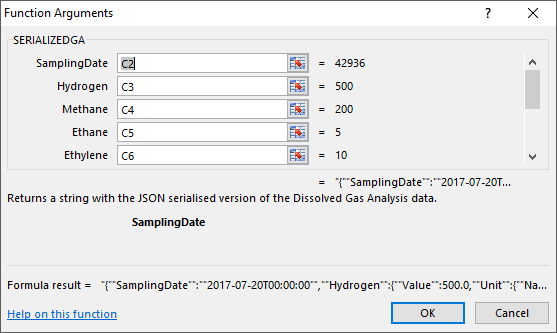 Run Algorithms
Use the library of custom Excel formulas to run industry best-practice algorithms to diagnose the condition of each transformer.
Comprehensive Analysis Results
Dozens of pages worth of analysis, rules and criteria condensed in clearly organised outputs for each algorithm.

---
For a more detailed explanation of how to use this library you can check our "How to use xDGA" article.
---
Source Code and Downloads
---
License
The MIT License (MIT)

Copyright (c) 2018 Carlos Gamez

Permission is hereby granted, free of charge, to any person obtaining a copy
of this software and associated documentation files (the "Software"), to deal
in the Software without restriction, including without limitation the rights
to use, copy, modify, merge, publish, distribute, sublicense, and/or sell
copies of the Software, and to permit persons to whom the Software is
furnished to do so, subject to the following conditions:

The above copyright notice and this permission notice shall be included in all
copies or substantial portions of the Software.

THE SOFTWARE IS PROVIDED "AS IS", WITHOUT WARRANTY OF ANY KIND, EXPRESS OR
IMPLIED, INCLUDING BUT NOT LIMITED TO THE WARRANTIES OF MERCHANTABILITY,
FITNESS FOR A PARTICULAR PURPOSE AND NONINFRINGEMENT. IN NO EVENT SHALL THE
AUTHORS OR COPYRIGHT HOLDERS BE LIABLE FOR ANY CLAIM, DAMAGES OR OTHER
LIABILITY, WHETHER IN AN ACTION OF CONTRACT, TORT OR OTHERWISE, ARISING FROM,
OUT OF OR IN CONNECTION WITH THE SOFTWARE OR THE USE OR OTHER DEALINGS IN THE
SOFTWARE.